Governor retrofits
Ensuring continued support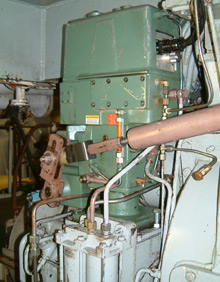 We have undertaken a number of recent projects to replace and upgrade the governors and control systems on engines of our manufacture in various applications.
Some of the governors specified with engines supplied in the late 1980s are now obsolete. In some cases, availability of spare parts for these governors is now an issue, as the original manufacturer is no longer manufacturing components. As a result, the manufacture of one off spare parts such as circuit boards for these governors would be prohibitively expensive. The manufacturer has stated that such governors would only be supported as long as spare parts were available.
As a result of the obsolescence of these governors, it is recommended that customers consider the supportability of the governors fitted to their plant. Then if required replace the governor hardware to more current equipment, which is more readily supported by ourselves and our suppliers if deemed necessary.
These new governors have several advantages:
Latest digital control system
No spares availability issues
Cost effective
Tailored software not general purpose units
Power plant operators are also increasingly interested in retrofits of this nature, to improve performance in terms of frequency stability under load change and also to utilise isochronous load sharing arrangements for accurate balance of generator set loads.
The new governors are digital control, which means that engine control and protection can now be carried out more accurately compared with previous mechanical systems. The new governing arrangement provides electronic governing as the primary engine control system, with an optional extra of a mechanical back up governor system to take control of the engine in the event of an electronic governor failure.
We would be pleased to conduct a survey of the current equipment fitted and recommend improvements to existing governing systems to ensure optimum performance and availability of plant is maintained.