Field Service
Engineers ready to respond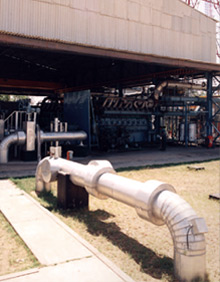 At Allen Diesels we pride ourselves on the technical expertise we offer to our customers. We have extensive facilities and experts in all fields from the provision of a full breakdown service, fault diagnostics and trouble shooting, noise and vibration studies to consultancy services providing the widest range of services possible.
Specialists are on hand to deal with enquiries as they arrive from customers. They work closely with field engineers and personnel to ensure that the best service can be provided and that those on site have access to all relevant information regarding the engines on which they are working.
Our team of highly skilled engineers provides worldwide coverage and support for Allen engines.
Planned and preventative maintenance service schedules are fully supported by our highly skilled service personnel. Routine servicing ensures optimum performance of engines and prevents costly breakdowns. Additionally, total peace of mind is ensured by our emergency call out service. When coupled with our maintenance contract options and the back up of our spares department, customers are guaranteed service of the highest possible quality. All services are fully supported by the use of only genuine spare parts, ensuring engine and component life is extended.
Competitive rates for engineers of all disciplines and other services provided by Allen Diesels are available on request. Using Allen Diesels' engineers is the only way to ensure that customers are utilising the most skilled, highly trained and knowledgeable engineers, specialists on Allen equipment. This ensures that downtime is minimised and therefore associated costs are significantly reduced.
Even more than ever, today's competitive business environment demands maximum plant availability. Allen Diesels has the worldwide presence and capability to provide this, our comprehensive range of customer support packages are designed to meet all clients' requirements.
We firmly believe that our customers want to be able to concentrate on the business that they know best… their own. Using Allen Diesels provides the peace of mind to be able to do this.