Case Studies
Civil Aviation Authority, Swanwick
Allen Diesel engines provide a vital emergency back-up to the power supply system of Europe's newest air traffic control centre.
The contract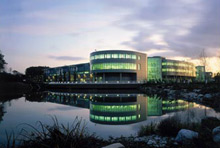 Allen Diesels support the two 16kV, 5MW engines that maintain power supplies to the Civil Aviation's Swanwick control centre in the event of normal operations being interrupted by electricity failure. Swanwick's operating staff and their advanced computer systems require reliable power supplies to maintain a safe and efficient service, monitoring and guiding the movement of more than one-and-a-half million flights each year. This number could rise to nearly four million flights per year by 2015 if present growth in air traffic continues.
Fail-safe back-up
The twin Allen diesels represent a 100 per cent duplication of the power provision for the site, which draws its primary electricity supply from the national grid supported by diesel generators as the most fail-safe form of back-up. Even in the unlikely event of a widespread national grid failure, the centre would be able to maintain full operations using just one of the medium speed diesel engines.
When Swanwick became fully operational in 2002 the centre took over responsibility for all air traffic inbound or outbound from airports and military bases in the southern half of England and Wales, plus over flights through the airspace of an area bounded by the Irish Sea, the Scottish borders, the mid-North Sea and the English Channel.
Europe
An interruption to Swanwick's operations of just half an hour would cause chaos to the flow of air traffic not just above Britain but also throughout the rest of Europe, with severe knock-on effects to intercontinental flights to and from north-west Europe. Such airline's problems could take days to resolve.
Reflecting the centre's sky-high priority for reliability, Swanwick's entire computer system is duplicated and installations are separately powered. Radar screen suites are also duplicated.
Maintenance schedule
At Swanwick, both Allen engines are kept in constant readiness – supported by a detailed test and maintenance schedule to ensure that if a power supply interruption ever occurs at least one Allen diesel engine will be ready for instant stand-by duties.
---
Click here to return to our Case Studies.